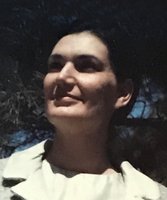 Mary Gunas
Mary Elizabeth Gunas, age 82, passed away peacefully on Friday, February 8, 2019 in Danielson, CT. She was born on April 6, 1936 in Kansas City, MO to Harlie W. and Lulu Mae Smith, both missionaries who raised her in Gravette, AR. She studied English Literature at Greenville College (IL) where she lived out her love of music, traveling the country singing alto in a quartet. She also played the organ, piano, violin, and accordion. She met her beloved husband, Peter Jones Gunas, Jr., in Kansas City, MO in December of 1958 while playing the piano at the Kansas City Rescue Mission, serving the underprivileged. She and Peter married in April of 1959 and had four children.
Mary loved the Lord. She was a devoted wife, mother, sister, and grandmother. She had passion and deep appreciation for music, art, nature, gardening, literature, and travel. She encouraged her children constantly to pursue experiences, education, and travel – one of the last trips she took was to visit her daughter and grandchildren while they were living in France. She taught in public elementary schools in Cape Cod, MA, Manchester, CT, and Belleville, MI, as well as high school French and Physical Education at a Christian high school in Kansas City, KS. Her passion for education and learning was a lifetime pursuit, not only for herself but also for others. She received a lifetime award for being the top fundraiser at Northfield Mount Hermon, the private high school where she sent two of her children.
Her surviving family will forever cherish her selfless and loving demeanor, sharp wit, superb intellect, and the keenest memory anyone could imagine.
Mary is survived by her husband, Peter; her daughters Priscilla May Gunas (Putnam, CT), Elizabeth Pamela Gunas Crampton (Lexington, MA), Heather Leigh Gunas (Northern Virginia), and her son, Peter Jones Gunas III and his wife Alice Mary Gunas (Northern Virginia); three grandchildren, Peter James, Miriam Elizabeth, and Samuel Hillard Crampton; and her sister, Ruth Winona Herbert (Stouffville, Ontario).
A service in her honor will be held Monday, February 11, 2019 at 11AM at Smith and Walker Funeral Home in Putnam, CT, with calling hours between 10 and 11AM. Burial following in Grove Street Cemetery, Putnam. Share a memory at www.smithandwalkerfh.com