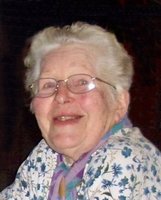 Alice Lazur
Alice F. Lazur, 98, of Woodstock, CT died, Monday, February 11, 2019 at her home in Woodstock. Beloved wife of the late Edward P. Lazur. She was born on August 21, 1920 in Webster, MA, daughter of Wladyslaw and Felicia (Dzienisiewicz) Nawrocki.
Alice made her home in Woodstock since 1947 and was married June 9, 1947 at ST. Joseph Church, Webster, MA. She was a communicant of Most Holy Trinity Church in Pomfret. Alice was active with the Senior Citizens Club of Woodstock in the Craft Club, Exercise Club and enjoyed traveling with the club. Alice worked for Woodstock Public Schools in the cafeteria and for Day Kimball Hospital for over 25 years as a Nurse's Assistant, retiring in 1989. She also volunteered at Day Kimball as an Escort. Alice was dedicated to her children and grandchildren, and loved to host game parties over all the major holidays. These parties always included singalongs as Alice and her siblings sang and danced to Polkas, entertaining the whole family. She also loved dining out with family and friends, especially when there was Polish food to be enjoyed. Alice was an avid UConn Women's Basketball fan.
She leaves her children James Lazur and his wife Risa of Chaplin, CT, John Lazur of Woodstock, CT, daughter-in-law Barbara Lazur of Lebanon, CT, grandchildren Kirstyn, Becka, Evan, great grandchildren Tiffany and Kory, sister-in-law Marie Nawrocki, nieces Janet, Paula, Elaine, and nephew David. She was predeceased by her son Edward Lazur in 2002, siblings Walter Nawrocki, Harriet Stoica, Johanna Huard and granddaughter Linda Lazur.
A Mass of Christian Burial will be Thursday, February 21, 2019 at 10 AM at Most Holy Trinity Church, 568 Pomfret Street, Pomfret, CT, burial will follow in ST. Joseph Garden of Peace Cemetery, Webster, MA. In lieu of flowers donations may be made in her memory to the Burdick Birthing Center, PO Box 632, Putnam, CT 06260. Share a memory at www.smithandwalkerfh.com