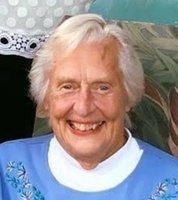 Marion A. Allaby
MARION A. ALLABY, May 10 1931 - February 14, 2019
Woodstock Valley - Marion Allaby was born into a fine Christian family on May 10, 1931 in Brooklyn, NY. Shortly after her birth the family moved to Scotia, NY. She grew up in The First Presbyterian Church of Schenectady. During her high school years in Scotia High School she was very active in the church and its youth group. While in high school she was a cheerleader and a member of the marching band.
After graduating from high school, she enrolled as a student in Gordon College where she played on the women's basketball team, sang in the college choir and in a women's trio. She graduated in 1953. In 1954 she married Stanley R. Allaby to whom she was married for 64 years.
Marion taught many women's Bible classes and sang in and directed the choir of Black Rock Church where she and her husband served for 41 years. Marion is survived by her husband, Stanley R. Allaby; four children, Norman Allaby of Bethel, CT; Darlene Moore of Woodstock, CT; Kimberly Clemmer of Lake Mary, FL; and Stephen Allaby of Colorado Springs, CO., nine grandchildren and four great- grandchildren. She is also survived by a sister, Marjorie Johnson of Glenville, NY, and by a brother, Gordon Johnson of Fort Myers, FL.
Marion will always be remembered as a faithful Christian, a loving wife, a caring mother, a loyal friend and so much more. Many people came to put their faith in Christ as a result of her Bible teaching, personal counseling and friendship.
Two memorial services are planned. One in The Woodstock Evangelical Covenant Church, 24 Child Hill Road, Woodstock on Thursday, February 21 at 2:00 p.m. The second one will be in Black Rock Church, 3685 Black Rock Turnpike, Fairfield, CT on Friday, February 22 at 11:00 a.m. There will be an opportunity to visit with the family after each service.
In lieu of flowers, donations may be made to Wheels For The World, in memory of Marion Allaby - https://www.joniandfriends.org/donate or (818) 707-5664 ext. 1740. Share a memory at www.smithandwalkerfh.com