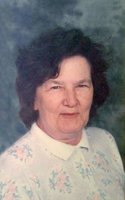 Betty L. Perry
Betty Louise French Perry, 89, went home to her Lord on February 24, 2019. She passed peacefully in the presence of her family. Betty grew up in Eastford, CT with her 6 siblings on a little farm. She married James L. Perry on October 30, 1948. Their love was one for which to aspire. She loved this area so much that she only moved a short way down the road to raise her own family. Even after wintering in Florida for many years, only here, in this little piece of the world, she called home. Betty attended Woodstock Academy but her proudest academic achievement was credits from the Moody Bible Institute where she remotely took instruction and received top marks. In addition to her primary work of being a mother, she worked at General Lyon's Inn, Eastford CT, both in the kitchen, cooking and in the dining room serving. She was a skilled cook and talented server. Later Betty joined her husband Jim at their gas station in Sturbridge MA, where she kept the books and worked by his side washing windshields as he pumped gas and did repairs.
Betty loved her family. She had a deep devotion to her children. Her siblings were her dearest friends. She loved her nieces and nephews. Her memories of the times with them would always bring a smile and a story. Her connection to children and animals was unrivaled. There was never a baby she couldn't comfort. She raised a deer, a squirrel, and other orphaned animals. When she would go to her garden and call "Pretty Boy" a cardinal would fly down to eat from her hand. She could even be found telling the little garden snake to move aside so they could share the area. Betty and Jim bred dachshunds and fancy foul on their little farm. They enjoyed growing vegetables and flowers together.
Later when they were able to spend winters in Florida, every evening they could be found as a quartet with Peggy and Charlie Bowen enjoying dinner out, followed by a few rounds of the cards
Betty's hobbies included baking, knitting and crocheting and most notably, joining her sister Peggy in an all day Saturday adventure of bargain hunting and tag sale seeking. They had so much fun.
Betty leaves her sons James Perry Jr. of Hudson, MA and Edwin Perry, Sr. and his wife Pamela, of Woodstock CT; her daughter Audrey Martinez and her husband Jose of Southbridge, MA; her grandchildren Edwin Perry Jr. and his wife Lisa of Oklahoma City, OK, Peter Blash and his wife Rachel, James P. Blash, Sarah Blash, Julia Blash, all of Southbridge, MA and Caleb Blash of Kansas City, KS; her great-grandchildren Edwin and Samantha Perry and Jasper Blash; her sisters Irene Anderson, Dorothy Horton, and Lorraine Howlett of CT, and many nieces and nephews. She is predeceased by her husband James; her sister Arlene (Peggy) Bowen; her brothers Milton (Kenny) and Russel; her granddaughter Helen Blash and her parents Clifford and Ruth French.
In lieu of flowers please consider a donation to Hospice of NE CT, PO Box 632, Putnam, CT 06260.
Calling hours will be Tuesday, February 26, 2019 from 5:00 to 7:00 PM at Smith and Walker Funeral Home, 148 Grove Street, Putnam, CT. A funeral service will be held Wednesday, February 27, 2019 at 11:00 AM at the Funeral Home. Burial will be in the spring at North Ashford Cemetery. Share a memory at www.smithandwalkerfh.com