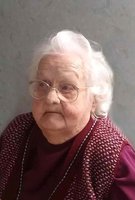 Helen Mongeau
Helen Mongeau, 96, of Brooklyn, CT, passed away February 25, 2019 at Westview Nursing Home in Dayville, CT. Born July 13, 1922 in Webster, MA, she was the daughter of John and Bronisla (Pogooa) Milas. Beloved wife of Louis Mongeau who died in 1999.
Helen was a Communicant of St. James Church in Danielson, CT. She was active with the Brooklyn Senior Center helping out in the kitchen. Helen loved raising her family and family meals were important. She enjoyed sewing, gardening and bingo.
She leaves her sons Louis Mongeau and his wife Doris of Brooklyn, CT and Fred Mongeau and his wife Gail of Brooklyn, CT; a sister Josephine Kulis of Webster, MA; grandchildren Charlotte Mongeau of Willington, Scott Mongeau and his wife Amy of Woodstock, Beth Nunes and her husband Paul of New London, Randal Mongeau and his wife Jen of Brooklyn, Christopher Mongeau and his wife Jessica of Danielson, Heather Mongeau and her fiancé Kurt Terpe of Preston and Kyle and Bonnie Herindeen of Woodstock. She also leaves her great-grandchildren Jennifer Jacobi, Xavier and Luna Mongeau, Sawyer and Hazel Mongeau, Grace Herindeen and many nieces and nephews. Helen was predeceased by her husband Louis, her sons Edward and Eugene and her siblings Frances, Ann and Louie. In lieu of flowers donations can be made in her memory to Friends of Assisi Food Pantry, 77 Water St. Danielson, CT 06239 or St. James School, 120 Water St. Danielson, CT 06239.
A Mass of Christian Burial will be Saturday, March 2, 2019 at 12:30 PM in St. James Church, 12 Franklin Street, Danielson, CT. A calling hour will be from 11:00 to 12:00 PM at Gagnon and Costello Funeral Home, 33 Reynolds Street, Danielson, CT. Burial will follow in Holy Cross Cemetery. Share a memory at www.gagnonandcostellofh.com