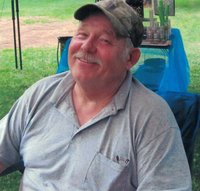 Douglas H. Hopkins
Douglas H. Hopkins, 67 of Pomfret Center died Saturday, March 16, 2019 at Yale New Haven Hospital in New Haven. Beloved husband of Alice (Marcy) Hopkins, they were married September 13, 1969. He was born on August 14, 1951 in Foster, RI, the son of the late Jason and Viola Hopkins.
Doug was fire fighter and fire police for 45 years with the Pomfret Fire Department. He was a veteran of the Vietnam War serving in the Navy as a Corp Man in Newport, RI. Doug was a Truck Driver for over 20 years and enjoyed Hunting. He was a very creative and artistic man. He enjoyed pumpkin carving, wood burning, airbrushing and screen printing, all while volunteering with the youth group at the Abington Congregational Church in Pomfret Center.
Besides his wife Alice, he leaves his children Kimberly White and her husband Steven of Salisbury, NC, Ginger Rathbun and fiancé Paul Malley of Canterbury, CT, Sandra Sherburne and her husband John of Danville, VT, Callie Hopkins and fiancé Shane Field of Plainfield, CT, grandchildren Shawn White, Erica Leatherman, Tricia Barnhardt, Shelby Rathbun, Sam Sherburne, Peyton Field, Max Sherburne and 6 great grandchildren, a sister Kathleen Brackett of Foster, RI.
Calling hours will be Saturday, April 6, 2019 from 10:00 to 12:00 PM at the Smith and Walker Funeral Home, 148 Grove Street, Putnam, CT. A Graveside service will follow at 12:30 PM at the Abington Cemetery, Pomfret, CT, with Military Honors. Share a memory at www.smithandwalkerfh.com