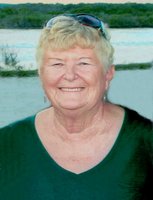 Nancy S. Zurowski
Nancy S. Zurowski, 75, of Brooklyn passed away Monday, March 25, 2019 at her home in Brooklyn with family by her side. She was born in Putnam, Ct., on June 23, 1943. She was the daughter of the late August and Sylvia (Walima) Nicola. Nancy was united in marriage to John J. Zurowski on August 31, 1963 at Our Lady of LaSalette.
Nancy attended Brooklyn and Killingly Schools and was a lifelong resident of Brooklyn. She was employed by the town of Brooklyn as Revenue Collector, worked for the High Sheriff in Putnam as a Clerk and later working for NECOG before retiring in 2005. Nancy was a CCD teacher at Sacred Heart Church. She was a member of the Finnish American Heritage Society of Canterbury. She was a lifetime member of the Brooklyn Fair. She was involved with the Brooklyn Democratic Town Committee. She was a member of the Seaport Sam's Camping Club. She was involved with the Killingly/Brooklyn Football Association as a Cheerleading Coach.
Nancy loved the outdoors, camping with family and friends at Charlestown Breachway, the ocean and spending the winters camping in Florida. She loved her books and enjoyed reading them in the sun.
Special thanks to the staff at Pierce Memorial Baptist Home, Day Kimball Hospice, Dr. Botta and her live-in caretaker Merle.
Survivors include her daughter, Sherri A. Soucy and her husband Cliff of Brooklyn, Ct., her son, Michael J. Zurowski and his wife Tress of Brooklyn, Ct., four grandchildren, Cole Soucy, Brittni Soucy, Travis Zurowski, Joshua Emerson, a sister Elizabeth Hawes of Brooklyn, Ct., and many nieces and nephews. She also leaves her Wednesday night card group Janice, Roseanne and Hazel. She was predeceased by her husband John and her grandson Riley Soucy.
A Mass of Christian Burial will be Saturday, March 30, 2019 at 10:30 AM at Our Lady of LaSalette, Providence Road, Brooklyn. Calling hours will be Friday, March 29, 2019 from 6:00 PM to 9:00 PM at the Gagnon and Costello Funeral Home, 33 Reynolds Street, Danielson. Burial in Holy Cross Cemetery, Danielson. In lieu of flowers, donations may be made in her memory to the Mortlake Fire Department, Brooklyn. Share a memory at www.gagnonandcostellofh.com