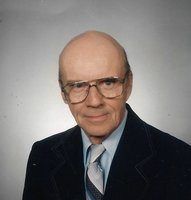 Llewellyn N. Winslow
Llewellyn N. Winslow, 92, passed away peacefully,Wednesday afternoon March 27, 2019 at Angel's Senior Living in Land O'Lakes, FL. He was born February 21, 1927 in Putnam, CT. Son of the late Llewellyn F. and Eleanor (Nelson) Winslow. Lew was a loving husband, brother, uncle, stepfather and friend to many and all immediate and extended family members. He was predeceased his sister Helen Wolchesky of Pomfret, CT in 2016.
Shortly after graduating from Putnam High School at age 18, Llewellyn signed on to the United States Navy at the repair base at Camp Elliot, in San Diego, CA as S1C from April 2, 1945 through August 21, 1946. Completing his WWII service, Lew had a long and proud 36 year career as production manager at the Belding Hemingway Company, in Putnam, CT.
Llewellyn devoted his time to many community services. He was a lifetime member of the Pomfret volunteer fire department, a member of the Putnam Elks serving as Past Masters in 1959, he was a lifelong mason and was an enthusiastic member of the Shriners, especially as a drummer in the bag band. With retirement came the lure of migrating to Florida in the winter, mixed with the summers in northeast Connecticut, achieving the best of both worlds.
Lew had a contagious joy for life. He enjoyed family, dancing, working in the orchard, camping, hooking a rainbow on the Mashamoquet with Steve, and most of all laughing at a 'good' joke. All who were lucky enough to have known Lew, were left with a smile and a brighter view of the world. He will always be remembered in our hearts as a true gentleman.
Calling hours will be Friday, April 5, 2019 from 10:00 AM to 12:00 PM at Smith and Walker Funeral Home, 148 Grove Street, Putnam, CT. A graveside service will follow at 12:30 PM in South Cemetery in Pomfret, CT. Share a memory at www.smithandwalkerfh.com