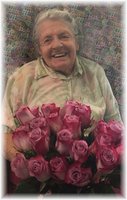 Emma Paine Ellsworth
Emma Paine Ellsworth, 91, of Pomfret Center, died Monday, April 8, 2019 at Davis Place in Danielson. She was the beloved wife of the late Robert E. Ellsworth, Sr., they were married June 21, 1952 in the Abington Congregational Church. She was born in Willimantic on July 3, 1927, one of nine children born to the late Frank Ray and Gladys Arlene (Hall) Paine.
She was a lifelong resident of Pomfret Center. As a member of the Abington Congregational Church she was active with the Women's Guild. She was a former secretary of the Abington Cemetery. She was a teacher at the Humpty Dumpty Kindergarten in Pomfret Center, was an administrator with the Ellsworth Pioneer Day Camp in Eastford and Woodstock, also babysat many children in town. Emma worked as a repair dispatcher for SNET before her retirement. She was an avid gardener and enjoyed her flowers very much and quilting. Emma was a devoted wife, mother, grandmother and caregiver for family and friends.
She leaves her children Robert E. Ellsworth and his wife Stephanie of Pomfret Center, John Ellsworth of Boscawen, NH, Glenn Ellsworth of Pomfret Center, a sister Lois Betty Paine Molnar of Ashford, seven grandchildren, two step-grandchildren, seven great-grandchildren, four step-great-grandchildren, many nieces and nephews. She was predeceased by her siblings Ruth, Maurice, Howard, Frank, Jr., Mildred, Oliver and Gladys "Tunny".
Calling hours are Saturday, April 13, 2019 from 10:00 AM to 12:00 PM at Smith and Walker Funeral Home, 148 Grove Street, Putnam, CT. A Graveside service will follow at 12:45 PM at the Abington Cemetery. In lieu of flowers donation maybe made in her name to the Abington Congregational Church, PO Box 289, Abington, CT 06259. Share a memory at www.smithandwalkerfh.com