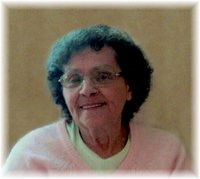 Jeanne B Poirier
Jeanne B. Poirier, 84, of Putnam, CT passed away April 16, 2019 at home in Putnam. Born March 2, 1935 in Putnam, CT. She was the daughter of the late William and Josephine (Guwca) Latour.
Jeanne worked for American Thread in her younger years and was a machine operator with Belding-Hemingway for 40 plus years, she then worked for 10 years at Woodstock Line. Jeanne enjoyed trips to flea markets with Frank and she was an avid collector of knickknacks, she also enjoyed spending time with her grandchildren and cookouts.
She leaves her sons Joseph W. Poirier, Michael A. Poirier and Robert E. Poirier; her companion Frank Gee; her brothers Joseph Latour and Raoul "Cibby" Latour; her seven grandchildren; her nine great grandchildren; her two great great grandchildren; also several nieces and nephews. She was predeceased by a daughter Robin Joly and a brother William Latour.
A Mass of Christian Burial will be held Monday, April 22, 2019 at 10:30 AM in St. Mary Church of the Visitation, 218 Providence Street, Putnam, CT. Burial will be in St. Mary Cemetery, Putnam, CT. Calling Hours will be from 9:00 to 10:00 AM at Smith and Walker Funeral Home, 148 Grove Street, Putnam, CT. Share a memory at www.smithandwalker.com