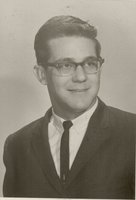 John B. Polanski
John B. Polanski, 76, a life long resident of Brooklyn and Killingly, died peacefully in his sleep, Tuesday,April 30, 2019 at his home in Brooklyn. Born February 8, 1943 in Putnam, CT, son of the late John and Josephine (Nixon) Polanski.
A 1963 graduate of Harvard H. Ellis Tech, majoring in Architectural Drafting. He graduated from Hartford State Technical Institute in 1965, majoring in Civil Engineering. He joined the Danielson Fire Departmentin 1961, at the age of 18 and was a past Fire Chief (78-81) of the East Brooklyn Fire Department, spending 17 years with the department. John loved collectingantiques and going to auctions. He was a milk bottle collector and an antique dealer for many years. John was a life member of the Windham County Agricultural Society. He ran Jeremiah's Antiques in Putnam for several years. John was an avid outdoorsman who enjoyed camping, fishing, ice fishingand going to the beach. He was a sports fan of theUCONN Women's Basketball, New England Patriots, New York Yankees and a Golf fan. John loved his three girls.
He leaves his daughters Christine A. Chenail of Brooklyn, CT, Kelly J. Rivers and her husband James of Pomfret, CT, Sharon L. Korsu and her husband Jay, Jr. of Brooklyn, CT, grandchildren Devin, Daniel, Katherine, Keenan, Hali and Emma, sister Joyce Lyons of Southbury, CT, nephews Michael and Benjamin. His companion and caregiver Lisa Danburg and, whom lived with John and his dogs Zoey and Miley. In lieu of flowers donations may be made in John's memory to the East Brooklyn Fire Department, 15 South Main Street, Brooklyn, CT 06234.
Calling Hours will be Saturday, May 4, 2019 from 2:00 to 4:00 PM at Gagnon and Costello Funeral Home, 33 Reynolds Street, Danielson, CT. A Funeral Service will follow at 4:00 PM at the Funeral Home. Share a memory at www.gagnonandcostellofh.com