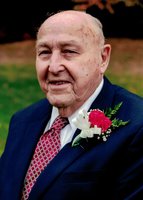 Robert F. Clemens
Robert F. Clemens, 93, of Putnam died Friday, May 31, 2019 at Matulaitis Nursing Home surrounded by his family. He was born October 30, 1925, in Putnam, son of Charles H. and Ellen (Sandstrom) Clemens.
On November 16, 1946, Bob married the love of his life, Jeannette Gosselin. They were married over 63 years when she died in 2010. Together, they built their home and raised their family on Munyan Road where he resided until April 29, 2019. He and Jeannette loved family times, dancing, gardening and traveling to all 50 states. Bob also enjoyed woodworking and shared that love by co-leading the 4-H Club, The East Putnam Live Wires.
Bob was a WWII veteran and member of American Legion Post #13, VFW Post #1523, Putnam Lodge of Elks #574, Survivors of Iwo Jima Association, Putnam Grange #97 and a past president of both the West Thompson Cemetery Assn. and the local AARP.
Bob worked at Whittemore's Greenhouse and then began his career as a truck driver for G.L. Place Trucking. In 1943, he enlisted in the United States Marine Corps and served in the Pacific Theater with the 5th Marine Division, which spearheaded the invasion of Iwo Jima. In 1946 he returned to work at G.L. Place until he bought the trucking rights and began R.F. Clemens and Sons Transportation in 1969. In 1984 he retired and sold the business to his sons.
He leaves his children, Linda Picciarelli and her husband Vincent of Brooklyn, CT and Florida, Robert Clemens Jr and his wife Cora of Putnam, Roxanne Swidrak and her husband John of Florida and Lebanon, CT, Mark Clemens and his wife Bette of Putnam. Nine grandchildren include: Maryann Picciarelli (David Labossiere), Amy Jankins (Brian), Heather Picciarelli (Bounti Phommachanh), Mindy Diamantopoulos (Christopher), Tami Stein (Nathan), Lori Solazzo (Matthew), Ryan Clemens (Sarah), Leslie Brothers (Shaun), Michael Swidrak (Tiffany Reynolds). His nineteen great grandchildren, Ashley, Kayla, Emma, Evan, Ella, Cash, Jayden, Abigail, Dylan, Courtney, Lucas, Quinn, Brendan, Hannah, Camryn, Gabriel, Madison, Natalie and Lilly, as well as, Nathan, Madison, Chris, Lyv and Cam. His sister Ethel Parker of Dayville, sister-in-law Pauline Woodis, brother-in-law Richard (Dick) Richmond, and many nieces and nephews. He was predeceased by three siblings, Harry, Charles, and Elizabeth (Betty).
Calling hours will be Monday, June 3, 2019 from 4-7 pm at Smith and Walker Funeral Home, 148 Grove Street, Putnam, CT. Funeral will be Tuesday, June 4, 2019, at 10:30 am at the Putnam Baptist Church, 170 Church Street, Putnam, CT. Burial with military honors will follow in West Thompson Cemetery. In lieu of flowers donations may be made to Hospice and Palliative Care of NECT, PO Box 632, Putnam, CT 06260 or Putnam Baptist Church. Share a memory at www.smithandwalkerfh.com