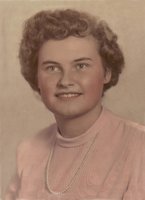 Joyce Albro
Joyce A. Albro, 87, of Pomfret Center, died Saturday, June 8, 2019 at the Day Kimball Hospital in Putnam. She was the wife of Leon C. Albro, Jr. He died October 27, 1985. Joyce was born June 18, 1931 in Putnam, daughter of the late Frederick Patrick and Olive E. Baker Noon.
Joyce worked at the Pomfret Town Hall as a bookkeeper and secretary. Joyce also worked at the Pomfret Community School as a teacher's aide. She retired at the age of 75.
Joyce enjoyed cooking and baking. She was known for her cookies and apple pies.
She was a communicant of Our Lady of Lourdes Church in Hampton. She had a great interest in genealogy and spent many years tracing her Irish roots. She was a member of the Connecticut Society of Genealogists and of the Killingly Historical & Genealogical Society.
Joyce was a very much-loved mother. She cared for "her" cat Susie, whose behavior she graded at the end of most days.
She leaves her daughter Mary E. Albro, her brother Alan F. Noon and numerous nieces and nephews.
She was predeceased by her husband, father and mother, her daughter Patricia Lee-Ann McLaughlin, her siblings Frederick "Bub" Noon, Jr., Lillian A. Rose, Robert B. Noon and Gerald Noon.
A Calling hour will be Saturday, June 15, from 9:00 AM to 10:15 AM at the Smith and Walker Funeral Home, 148 Grove Street, Putnam, CT followed by a Mass of Christian Burial at 11:00 AM in the Our Lady of Lourdes Church, 41 Cedar Swamp Road, Hampton, CT. Burial will follow in Abington Cemetery.
Donations may be made in Joyce's memory to Our Lady of Lourdes Church, PO Box 211, Brooklyn, CT 06234. www.smithandwalkerfh.com