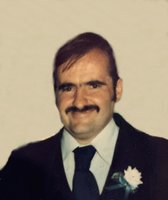 Ricky J. Caron
Ricky J. Caron, 60, of Putnam, CT died unexpectedly Tuesday afternoon, June 25, 2019 at Day Kimball Hospital in Putnam. Born December 16, 1958 in Putnam, CT son of the late Leo Caron and Rita (Rumrill) Fruno. He was the beloved husband of Kathy (Jodoin) Caron, they were married on August 2, 1987 at Whipple's Chapel in Dayville.
Ricky was hardworking, painting, lawn care and doing odd jobs. Ricky worked maintenance for Xtramart and Walmart and also worked as a prep cook at Vernon Stiles in Thompson and KFC in Putnam and he also worked as a spinner at the Matson Mill in Thompson. Ricky was a fan of the Red Sox and Patriots. Ricky had a great love for both of his boys.
He leaves his wife Kathy Caron of Putnam, CT; sons Joseph Caron of Brooklyn, CT and John Caron of Putnam, CT; brother Steven Caron of Putnam, CT; sister Christina LaFlash of Putnam, CT; several nieces and nephews, sister-in-law Tammy Caron of Putnam and brother-in-law Brian LaFlash of Putnam.
A Memorial Service will be on Saturday, July 13, 2019 at 3:00 PM at the Smith and Walker Funeral Home. 148 Grove Street, Putnam, CT, with a Calling Hour from 2:00 to 3:00 PM. In lieu of flowers, donations may be made to his family to assist with funeral expenses, 95 Laconia Ave. Putnam, CT 06260. Share a memory at www.smithandwalkerfh.com