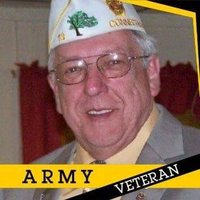 Andrew Barylski, Jr.
PUTNAM, CT - Andrew Barylski, Jr., 72, passed away on Wednesday, July 3, 2019 at his home. He was born August 12, 1946, son of the late Andrew Barylski, Sr. and Jeannette (St. Germaine) Barylski. Andy is survived by his loving wife of 53 years Rita M (Peppin) Barylski and two sons; Dennis of Putnam and Michael of Milwaukee, WI. He also leaves one grandson, Dennis Jr. and a great granddaughter Isabella Rose of Missouri. Andrew was the brother of twin sisters, Gloria Ghirarduzzi of Glens Falls, NY and Linda March (John) of North Carolina and many nieces and nephews.
He graduated from Tourtellotte High School in 1964 and attended broadcasting school in Boston and entered the Army in 1965. In 1966, one week after his marriage, he was deployed to Vietnam assigned to HHC VII Corps as a reported for the US News and Stars and Stripes. During a stint with the Green Berets, he earned a Bronze Star for his service. He was them assigned to Baumholder, Germany where he started a newspaper for the Commander and earned an award for that. While in Vietnam, his father-in-law (Owen Peppin) signed him up in the VFW and The American Legion and got him involved in TAL when he returned. He went through the ranks of the District and into the State. He served as State Commander in 2007-2008.
After his military service, he worked for the Norwich Bulletin as a reporter, worked as a independent photographer, attended Quinebaug Valley Community College and later became a Ford car salesman until his retirement.
Visiting hours will be held on Tuesday, July 9, 2019 from 6 to 8 pm at the Smith and Walker Funeral Home, 148 Grove St., Putnam, CT. Funeral Service will be Wednesday at 11:00 am at the funeral home followed by burial in St. Mary Cemetery with Military Honors.
In lieu of flowers, please make donations to The American Legion, Operation Comfort Warriors, 700 N Pennsylvania Ave., PO Box 1055, Indianapolis, IN 46206. www.smithandwalkerfh.com.