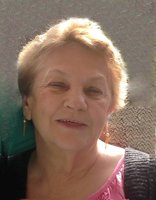 Marie Ann Michon
Marie Ann (Derosier) Michon "Nun Nun", 72 of Putnam, CT passed away peacefully on July 7, 2019 surrounded by loving family and friends. Born May 21, 1947 in Putnam, CT, she was the daughter of the late Armand and Marie (Moran) Derosier. She was married to the late Arthur "Sonny" Michon in 1968.
A resident of Northeast, CT her entire life Marie attended Putnam Catholic Academy and graduated from the Connecticut Institute of Cosmetology in 1966. She began her career as a dedicated cosmetologist immediately following graduation and worked in local salons until her retirement from Shear Reflections in 2011. Marie's commitment to quality hair care and her customers made a lasting impact on all those she treated. Alongside her passion for beauty. She was an avid swimmer and loved sailing at Alexander's lake in her youth. She also enjoyed ceramics and bowling. She was also a member of the daughters of Isabella. She loved her friends and family more than anything. Marie also worked in the Kitchen for Killingly Board of Education for eight years. She was a resident of Davis Place Nursing Home for six years and she formed a special bond with many nurses and staff.
Marie is survived by her son Kurt R. Michon and his wife Colleen C. Harvey-Michon of Danielson, CT; her granddaughter Alyssa M. Harvey of Danielson, CT; her best friend of 34 years Gary J. Brisson of Central Village, CT; her sister Thelma Fountain of Dayville, CT, also several nieces and nephews that she loved so dearly. She was predeceased by a brother Armand Derosier. In lieu of flowers make donations to family Kurt R. Michon 3021 David Ave., Danielson, CT 06239.
A Mass of Christian burial Thursday, July 11, 2019 at 10:00 AM in St. James Church, 12 Franklin Street, Danielson, CT. Burial will follow in St. Joseph Cemetery, Dayville, CT. Share a memory at www.smithandwalkerfh.com