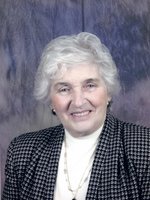 Laura Parziale
God called his faithful servant Laura (Niles) Parziale 90, home on November 15th. Born on December 30th 1928 in Putnam, she was the daughter of Joseph and Anna (Dufault) Niles. Laura was predeceased by her husband Jim, brother Arthur and sister Rita. She is survived by her sister Irene Crabtree.
She leaves her four children, Thomas and his wife Ann of Rye N.H., Denise Gantick and her husband Ron of Willington, CT, Linda Sinha of Putnam, Daniel "Duke" and his wife Barbara of Putnam. Gram, Great Gram, Great Great Gram was loved by her 11 grandchildren, 12 great grandchildren, and 2 great great grandchildren. She left each with many cherished memories. In addition she leaves many nephews and nieces and dear friends. Laura was loved by all.
Laura was a great sports enthusiast loving her New England sports teams. She belonged to golf and bowling leagues with many trophies to show for her efforts. She passed down her love for sports to her family and loved to coach from the sidelines.
Laura worked in retail, banking and real estate. In her later years she enjoyed being a caregiver. A Life Celebration will be Saturday, November 23, 2019 from 10:00 AM to 11:00 AM at Smith and Walker Funeral Home, 148 Grove Street, Putnam, CT. Followed by A Celebration of Life Service at 11:00 AM at the Funeral Home. Burial will follow at St. Mary Cemetery, Putnam, CT. In lieu of flowers donations can be made in her memory to Living with Autism, Inc. 102 Solitude Way, Cary, NC 27518 or High Pointe Church, 1208 Thompson Road, Thompson, CT 06277. Share a memory at www.smithandwalkerfh.com