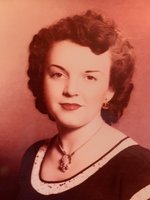 Rita Goodwin
Rita Goodwin, 85 of Danielson, CT, passed away November 27, 2019 at Crestfield Nursing Home in Manchester, CT. Born March 1, 1934 in Danielson, daughter of the late Andrea Cote. Rita was the beloved wife of Albert K. Goodwin, they were married on May 16, 1953 at the Methodist Church in Danielson, CT.
Rita loved her family and enjoyed animals, plants, gardening and the ocean. Rita was a machinist working for Electro-Motive Mfg. Co., Loos & Co. and Delta Rubber where she retired.
She leaves her daughter Mary Lou and her husband David Leach of Brooklyn, son Mark Goodwin of Danielson, her only granddaughter Jenny Lynn Baron of Brooklyn and her cats Minnie and Goldie.

A Graveside Service will be December 6, 2019 at 11:00 AM in Westfield Cemetery, Danielson, CT. All are welcome. Share a memory at www.gagnonandcostellofh.com