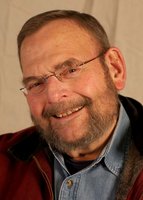 David A. Osier
David A. Osier, 78, of Pulpit Rock Road, Woodstock CT, died at Hartford Hospital on February 26, 2020, with family at his side. He had been ill for some time.
Born in Chicago, Illinois on May 5, 1941 he was the son of Helen (MacLaughlin) Osier and Albion V. Osier. David is survived by his beloved wife, Maxine A. Marcy of Woodstock CT; daughters and spouses, Heather and Chandler Paquette of Woodstock, CT and Rebecca and Christopher Gee of Woodstock, CT; grandson, Joseph L. Gallo III of Alexandria, VA; brother and spouse, Stephen and Ilse Osier of Sequim, WA; brother-in-law and spouse, Ronald and Jean Marcy of Woodstock, CT; brother-in-law Robert Marcy of Woodstock, CT and many cousins, nephews and nieces. Sable, the family black cat, held a very special place in his heart.
In his younger years, David lived in several areas of the United States, including Illinois, California, New Jersey, New York (Long Island), Maine, Massachusetts, and finally settling in Woodstock, Connecticut in 1955. He graduated from Woodstock Academy in 1959.
He was a proud graduate of the Pratt & Whitney Apprenticeship Program and worked at Pratt and Whitney in East Hartford, CT as a machinist. Following that, he worked as a machinist at several machine shops, including Electro Fiberoptics/Valtec, Worcester, MA; American Optical, Southbridge, MA; CEM, Killingly, CT; and Whitcraft Corporation, Eastford, CT. For the last twenty years of his career, he was a Scientific Instrument Maker, designing prototypes and apparatus used in experiments for research and development, first for the Physics Department at Harvard University, Cambridge, MA, and then for the Chemistry Department at the University of Connecticut, Storrs, CT.
David was accomplished in everything that he did. For many years he was an artisan blacksmith, designing and forging intricate hooks, chandeliers, door latches, and candle holders. He was a demonstrator at craft fairs throughout New England. For years, he also demonstrated his blacksmithing skills at the Woodstock Fair, where he was a lifelong member of the Woodstock Agricultural Society.
David belonged to the New England Model Engineering Society for more than 25 years, and participated in model engineering shows, including the annual North American Model Engineering Exposition in Michigan. He proudly exhibited his "Elbow Engine," a piston-based engine fed by steam.
David loved reading, especially history. His deep voice gave resonance when reading aloud, and he did so on many occasions for libraries, schools and organizations. David was always curious and interested in so many things, and loved to tell of his vast experiences. He was always ready with a story to tell.
A proud gun owner, David was a NRA member, loving the mechanics and craftsmanship of rifles. He was a keen marksman and won awards at target shooting competitions.
David enjoyed being with family and friends, sharing his famous home made Maine baked beans with one and all, exploring, exchanging ideas, and visiting museums. He will always be remembered for his tremendous sense of humor. His was a life well lived.
A celebration of his life will be held at a later date. You are welcome to make a donation in his memory to the charity of your choice. If you wish to share a memory of David, you may do so at smithandwalkerfh.com.