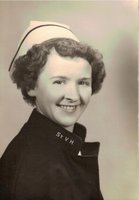 Marie Lucille Tetreault
Lucille Tetreault, Beloved wife of CMsgt Paul P. Tetreault (ret) for 61 years went peacefully to see Our Lord Friday, June 5th , 2020 of natural causes.
Born February 16, 1937 to Audila and Antonin Auger in Webster Mass. Upon Graduation with High Honors from Putnam Catholic Academy in 1955, She entered Saint Vincent's School of Nursing and graduated with a degree in Nursing, June of 1958. Upon graduation, she commenced her Nursing duties at Day Kimball Hospital until she married Paul on November 8th, 1958 in Arlington, Virginia. She resumed Nursing duties at Prince George's Hospital in Landover, Maryland, until she went with Paul to the Philippines where she did special Nursing duties at the Clark AFB Military Hospital on South Vietnamese Soldiers and special burn cases. There she met and shook hands with Movie Actor Jeff Chandler, who had to go to the hospital while filming Merrall's Mauraders.
Upon arriving in Colorado Springs in 1961, Lucille did Nursing duties at the Memorial Hospital. Returning to Putnam in 1964, Lucille joined the Putnam Health Care Department, working with Charlotte Lenky. Besides doing visiting Nursing duties, she was also the 1st Headstart Nurse working at the old Putnam Grammar School, checking children's Health with Gerard Cotnoir. In the 70's, she took care of sales at the Tetreault Appliance Store. In 1980, she returned to visiting Nursing duties till about the year 2000, where she started to cut toe nails. Known as the Toe Nail Queen, she ran four clinics. Plainfield, Brooklyn, Putnam and Thompson till her retirement, in 2018. She compiled 60 years of Nursing and in 2014 she received a prestigious Nightingale Award for Excellence in Nursing. She always said that she felt best when she was amongst the people that needed her care. Lucille left a legacy matched by none.
She leaves her husband, Paul and children, Monique L. Phelan of Danielson, CT, Michael P. Tetreault of Summer Field, FL, Mark A. Tetreault of Cologne, MN, David J. Tetreault of Danielson, CT, brother Maurice Auger of Putnam, CT, grandchildren Kelsey Phelan, of Danielson, CT, Christopher Phelan of Charlotte, NC, Patrick Phelan of Danielson, CT, Mathieu Phelan of Danielson, CT, Eric Tetreault of Cologne, MN, Melissa Tetreault of Cologne, MN, Holly Tetreault of PA, Misty Tetreault of Smyrna, DE, great grandchildren Nariah, Tommy and AJ.
In lieu of flowers donations may be made to the Day Kimball Hospital, Home Healthcare Department in her name would be appreciated, Day Kimball Healthcare, Home Healthcare Department, P. O. Box 632, Putnam, CT 06260. Services have been entrusted to the Gagnon and Costello Funeral Home, 33 Reynolds Street, Danielson, CT. Share a memory at www.gagnonandcostellofh.com