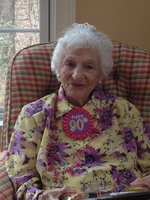 Josephine Brewster
Josephine (Jo) Brewster, 98, passed away at Arden Court in West Orange, New Jersey on June 29 with her family at her side.
Jo was born in Old Saybrook, Connecticut the oldest of eight children to Michael and Michelina Belmont. She was married in 1943 to Donald Brewster and they made their home in Woodstock Valley.
She is survived by her daughters, Joann (Jay) Durst of Pomfret and Jane (Ned) Gladstein of North Caldwell, New Jersey. She is also survived by four granddaughters and six great grandchildren. She is predeceased by three brothers and one sister. She leaves three sisters Anne, Lucy and Amelia.
Jo worked as a payroll supervisor at American Optical in Southbridge, Mass, for 34 years. She was the secretary of many local organizations - Woodstock Academy board of trustees, Quasset cemetery association, and Ashford senior center to name a few.
The family would like to thank the many caregivers at Arden Court and Hospice.
Burial will be Friday, July 3 at 11:00 at Quasset Cemetery in Woodstock. We request donations be made to Ashford Senior Center or Saint Phillips the Apostle Church in Ashford. Smith and Walker Funeral Home have been entrusted with arrangements. Share a memory at www.smithandwalkerfh.com