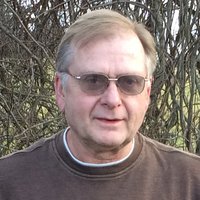 Robert R. Marcy
Robert (SAM) R. Marcy
Robert R. Marcy, 68, of Shaw Road, Woodstock Valley, CT passed away suddenly on July 10, 2020. Born December 3, 1951, in Southbridge, Massachusetts. He was predeceased by parents Max and Arlene (Barrett) Marcy. Many knew him as Sam.
He leaves his brother Ronald and wife Jean Marcy, sister Maxine Marcy, nieces Melissa Desrosiers, Jessica Gill and Christina Gregorzek, several great nieces and nephews, many cousins and friends. He also leaves his loving but somewhat mischievous cats Clyde and Claude.
Robert graduated from Harvard H. Ellis Technical School, Danielson, CT in 1972 as an auto body technician. He enjoyed preservation and restoration of automobiles and utilized this passion in his work for 45 years, starting at Goodhall's Garage, in Union, CT; then Rick's in Charlton, Mass and Arnie's in Charlton Mass. For the past 10 years he served as auto body technician at Precision Collision in Pomfret, Ct. Sam's home garage was his hobby, in addition to taking his cars for a "spin" around the area.
Robert was a kind and thoughtful person, always willing to help - this was indicated when he was a wonderful caregiver to his mother Arlene who had Alzheimers. Robert loved traveling and visiting with people.
Due to the current social distancing requirements the family will hold an informal "calling hours" on the lawn of Robert's home, 3 Shaw Road, Woodstock Valley, CT on Wednesday, July 22nd from 4-6pm.
You are welcome to make a donation the charity of your choice in memory of Robert (Sam). If you wish to share a memory, you may do so at smithandwalkerfh.com