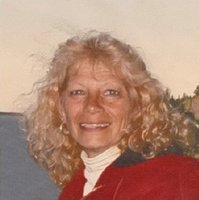 Karen French
Karen D. French (Gingras), 65, passed away peacefully on July 30, 2020. She is survived by her beloved husband and soul-mate Earl French, her children Heidi Willard, Alison (John) Watersand Matthew Jolley; parents Raymond and Elaine (Baranski) Gingras; siblings Susan Johnson, Michelle (Ronald) Laporte and Mark Gingras, her grandchildren, Alexander and Katherine Willard, Abbigail, Emma, Isabell, Anna and Ethan Waters, whom she loved so dearly, and many nieces and nephews. She was predeceased by a brother Raymond Gingras Jr.
Karen worked the early part of her life in many of the mills in Eastern, CT., a short time in the Deli at A&P and Stop & Shop in Dayville, and for the past 14 years, was a warehouse worker at Lowe's Distribution Center in Plainfield. She was a hard worker and was always proud to put in a good day's work.
She was an avid lover of all nature – all of God's creations fromwild flowers to sunsets, birds and EVERY furry animal that she came across and wanted to make a pet. She loved spending time outside in her many gardens, or walking through the woods. She also LOVED to collect… lots of things; fairies, paperweights, interesting rocks and shells – nature.
Karen was a compassionate caregiver – she loved and thrived on taking care of people and letting them know how important they were to her. Most recently, she helped care for her aging parents, and cherished the time she was able to spend with them, reminiscing and enjoying the simple things.
The most precious part of her life was her family, especially her husband, children and grandchildren. She enjoyed celebrating each one of them and was so proud of their accomplishments and was always their biggest fan. She would always put them first in everything she did.
Karen touched so many lives and made a positive impact on everyone she met. She was loved by all who knew her, and she will be greatly missed.
Calling Hour will be on Monday, August 3, 2020 from 12:00 – 1:00 PM at Gagnon and Costello Funeral Home, 33 Reynolds Street, Danielson, CT, followed by a Graveside Service at the Ashford Baptist Cemetery, Route 171, Eastford, CT. Karen would prefer if you dress casual for her services. Share a memory at www.gagnonandcostellofh.com