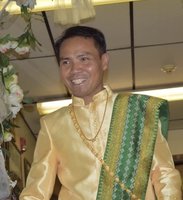 Khonesavanh Souriyamath
Khonesavanh Souriyamath, age 50, of Dayville, CT peacefully passed away in his sleep on September 1st, 2020, after having deteriorating health due to a chronic heart condition and type II diabetes.
He was born in Savanket, Laos to Chanh and Khong Souriyamath. He left his homeland to the city of San Diego, CA. In San Diego, he met Visamay Souriyamath, who he would go on to father three children with; Sean, BJ, and Tum Tum.
In 1992, Khonesavanh moved to Connecticut and began working at Frito Lay as a Machine Operator where he continued to work for 27 years. His coworkers always spoke about his strong work ethic, but most importantly they would mention how much of a genuine person he was who showed that he cared. He was just one of those coworkers who spread happiness to the others around him.
Khone spent most of his time working and providing for his family, but on his free time he loved riding around town in his red mustang convertible with his top down blasting music. Most of all, he loved to eat all types of food and going to eat every buffet around. Lastly, he was always focused on fathering his children and loved to talk about them and their accomplishments with others.
Khonesavanh is survived by his sons and stepdaughter; Sean Phongsavad, Tum Tum Souriyamath, Manilin Keokominh his wife; Monty Souriyamath, his brothers; Kanhkong Souriyamath, Don Souriyamath, Tong Sengtong Souriyamath, his sisters; Vongmay Souriyamath and Kongmay Souriyamath, and many good friends and extended family members.
He was predeceased by his parents, brother Keo Souriyamath, and son BJ Phongsavad.
The funeral services are scheduled for Saturday, September 12, 2020 from 9:00AM to 12:00PM at Gagnon and Costello Funeral Home located at 33 Reynolds St, Danielson, CT 06239. Following the services, we will travel to the crematory to complete the ceremony and say the final goodbye.