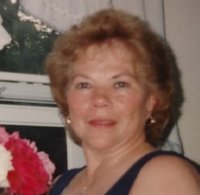 Theresa C. "Connie" Stevens
Theresa C. Stevens (known to all as Connie), 80, of Putnam, CT, passed away on January 21, 2021 after a long battle with Parkinson's Disease. Connie was born on August 21, 1940 to Phillip and Isola Salvas. After graduating from Tourtellotte High in 1969, she worked at Putnam Manufacturing Corporation as a floor supervisor then later as a cook for Data General, Marriott Corporation and from 1992 – 2006 she became a Master Cook at Foxwoods Resort Casino.
In 1964, she married Leonard W. Stevens "Lenny", in Pomfret, CT going on to have three wonderful children, Wendy L. Dastous, James N. Stevens and Daryl L. Stevens. Leonard passed away in 1999 and Connie was fortunate to meet her long-term companion and best friend Richard Sannicandro. Rich and Connie enjoyed gardening, traveling and dancing. They were true soul mates.
Connie was a wonderful mother and dedicated her life to caring for her family and later her grandchildren. She has five grandchildren, Jessica Rae Dastous, Jacob Dastous, Cameron Stevens, Corey Stevens and Brayden Stevens.
Connie had a strong faith in God and regularly attended mass at St. Mary's Church in Putnam. She was also passionate about dancing and when she wasn't filling her home with warmth and kindness, she could be found with Rich dancing the night away. We will miss her greatly.
Connie was predeceased by her husband, Lenny Stevens and her brothers, Gerard Salvas, Phillip Salvas Leonard Salvas, Francis Salvas, her mom Isola (Vadnais)Salvas and her father Phillip Salvas. She is survived by her sisters Lorraine Turenne,and Pauline Salvas and her brothers Roger Salvas and Richard Salvas, many nieces and nephews.
A Mass will be held at St. Mary's Church, Putnam, CT on Friday, January 29, 2021 at 10:00 am followed burial. A celebration of life will be held this summer in Connie's honor on a nice, bright sunny day. In lieu of flowers please consider making a donation to The Michael J. Fox Foundation for Parkinson's Disease, P.O. Box 5014, Hagerstown, MD 21741-5014. Share a memory at www.smithandwalkerfh.com