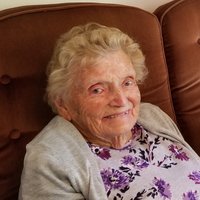 Sonja L. Healey
Sonja L. Healey went home to be with her Lord on February 4, 2021. She was born on July 20, 1930, Sonja Lindgren Healey grew up in New York City and Öland, Sweden. Her Swedish heritage was important to her. She moved to Woodstock, Connecticut as a teenager and graduated from Woodstock Academy in 1948. Sonja's life revolved around farm, family, and faith.
Sonja married Kenneth Healey in 1950. They farmed together for more than 60 years, milking cows at Echo Farm until 1973 and then raising vegetables and flowers at Woodstock Farms. They were a committed team. Sonja was well-known for her hospitality and home-cooking.
Sonja was a devoted mother and best friend to her four daughters, Ruth, Joy, Heidi, and Amy. When her children moved away, she wrote to them every day until technology enabled them to connect via Skype each morning.
Sonja was adored by her grandchildren. Ruth and Joe Mauk's children are Martha Goebel, Rachel and Shane Stevenson, Elizabeth and Dominick Marandola, Priscilla and Andrew Leighton, and Miriam and EJ Bongolan. Jimmy and Joy Ng's children are Suzanne and Matthew Jensen, Jenny and David McEwen, and Sarah and Jason Brazel. Heidi and Harvey Payne's children are Sonja Payne, Wesley and Sara Payne, and Linnea Payne. Amy and Rick Vinal's children are Brian and Dona Vinal, Holly and Christopher Crellin, Thomas and Nicole Vinal, and Melody Yargeau. Sonja's 15 grandchildren, 27 great-grandchildren, and many friends called her Mormor. She loved and prayed for them all. Sonja looked forward to meeting her infant son David in Heaven.
Sonja lived with Amy and Rick at Woodstock Farms after Ken passed away eight years ago. She picked beans and strawberries, watered flowers, manned the stand, and was a consultant. She enjoyed visiting with customers, who quickly became friends. She was honored on her 90th birthday last summer when many friends and loyal customers stopped at the stand to wish her well.
Sonja's faith in Jesus Christ was her foundation. She was an avid student of the Bible, a faithful church member, a prayer warrior, and a mentor and inspiration to many. She had a heart for missions. She and her sister, Linnea Kallgren, taught a Bible Study together for more than 30 years.
Mormor is greatly missed. Her shoes cannot be filled, but her example and legacy will continue to inspire and encourage us.
Everyone is invited to participate in a live-streamed memorial service for Sonja on Sunday, February 7, 2021 at 2:00 PM. (www.southwoodstockbaptist.org)
In lieu of flowers, the family would appreciate cards or notes with memories of Sonja. They can be mailed to Woodstock Farms, 586 Senexet Road, Woodstock, Connecticut 06281. Share a memory at www.smithandwalkerfh.com