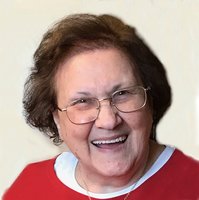 Shirlene Saucier
Our beautiful and beloved Mom, Shirlene V. Ouellette Saucier, 85, formerly of Danielson, CT, peacefully passed away on February 10, 2021, at her home at New Bridge on the Charles, Dedham, MA, where she had enjoyed residing for the past five years. Shirlene was originally from Eagle Lake, ME. She is preceded in death by her husband of 32 years, Gilles J. Saucier, on April 11, 1986.
She raised her family, worked, and lived in CT for over 53 years, and retired from her 35-year career at Finast. Shirlene is survived by her five children, Lisa (Saucier) Natorski and her husband Theodore of Farmington Hills, MI, Karen Saucier of Redwood City, CA, Lynn Saucier and partner Jake Jacobellis of Boston, MA, Wade Saucier and his wife Deborah of East Sandwich, MA, Susan (Saucier) Ledoux and her husband Joseph of Southwick MA; four grandchildren, Nicole (Natorski) Dunigan and her husband Brian, Michael Natorski, Jennifer Ledoux and her husband Mason Hebert, Jonathon Saucier and his fiance Sarah Woodring; two great-grandchildren Natalie and Emilia Dunigan; and two siblings, Allen Ouellette and Vernon Ouellette, and their extended families.
Shirlene will be remembered for her love and devotion to family, her intelligence, beautiful smile, very sweet and giving nature, grace, and dignity. She will be dearly and deeply missed by us all. Mom, we love you. May you rest in peace.
Calling hours will be Tuesday, February 16, 2021 from 11:00 AM -12:30 PM at Gagnon and Costello Funeral Home, 33 Reynolds Street, Danielson, CT. Mass of Christian Burial will follow at 1:00 PM, St. James Church, 12 Franklin Street, Danielson, CT. Shirlene's final resting place is Holy Cross Cemetery, Danielson, CT. Share a memory at www.gagnonandcostellofh.com