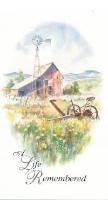 Paul A. Fisher
Paul A. Fisher, 70, of Sabin Street, Putnam, CT died Wednesday, February 10, 2021, at the William W Backus Hospital in Norwich, CT. He was born August 2, 1950, in Putnam, son of the late Edwin C. and Hazel (Woodis) Fisher. Paul was predeceased by his brother, Floyd "Buzz" Fisher.
Paul was a small engine mechanic/parts man in many area repair shops. You may have encountered him at Foskett Equipment or Freeman's on Route 171. Paul retired in his 50s due to health reasons. He enjoyed helping family, friends, and acquaintances whenever possible.
Paul had an affection with everything that had two or four wheels. He enjoyed driving the countryside observing the area's progress. Television was his friend – news, documentaries, old movies all piqued his interest.
Paul is survived by his brother, Edwin Jr. and his wife Susan of Willimantic, CT; his sister Ruth Fisher Knox of Dayville, CT; his nieces, Gretchen Fisher Orr of Rockville, CT and Faith Fisher of Pomfret, CT; his nephew, Justin Knox of Andover, MA; his grand-nephews Nicholas and Samuel Grist; and his grand-niece Sofia Knox Artacho. He is also survived by numerous cousins.
Memorial donations in Paul's name may be made to the charity of your choice. Graveside services will be held in the Spring in Grove Street Cemetery, Putnam, CT at a date and time to be announced by the Smith and Walker Funeral Home. Share a memory at www.smithandwalkerfh.com