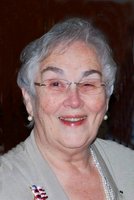 Helen Harding
Helen Harding, 89, formerly of Woodstock Valley, passed away February 19, 2021 with her loving family by her side, at her daughter's home in Putnam. Helen was born on September 24, 1931 in Hope, ME, daughter of the late Herbert and Frances (Whitehouse) Payson, and eldest of five children. She attended Camden High School and graduated in 1951. While attending school she met her future husband and love of her life Everett T. Harding. They were married July 22, 1951 and remained married for 66 years until his death in 2018.
In 1951 Helen and Everett moved to Anchorage, AK after Everett was drafted into the U.S. Army. After the Korean War they moved to Chicago, IL before finally settling in Eastford, CT where they raised their family. Helen worked as a Nurse's Assistant at Day Kimball Hospital and was a Teacher's Assistant at Eastford Elementary for more than 30 years. She was a wonderful painter, painting beautiful portraits and landscapes. She enjoyed gardening, cooking, sewing, and knitting and enjoyed sharing her knowledge of these subjects with family and friends. Helen loved spending time at the family camp in Lincolnville, ME, eating lobsters, clambakes, and playing cards. Helen was a wonderful wife, mother, grandmother, and great-grandmother. She was always wise beyond her years even at 89.
Helen was a member of the Order of Eastern Star Betty Putnam #106, Eastford Independent Fire Company Women's Auxiliary, and the Church of the Good Shepherd in Woodstock Valley.
She leaves her daughters; Doreen Holt and her husband Ken of Putnam, CT, Pamela Kersh and her husband John of Virginia Beach, VA, grandchildren; Benjamin Shead and his wife Kathryn of Woodstock, CT, Alison Shead of Los Angeles, CA, Ethan Kersh of Virginia Beach, VA, great-grandchildren; Isabelle, Zachary, Samuel, and Jonas Shead, sister Judith Pratt of Brewer, ME, many nieces and nephews. She was predeceased by a son Scott E. Harding, her siblings, Carl Payson, Diana Cole, and Hollis Payson.
A private funeral service was Monday, February 22, 2021 at Smith and Walker Funeral Home, Putnam, CT. She will be buried in Maine with her husband and son, at a later date. In lieu of flowers donations can be made to The Church of the Good Shepherd, PO Box 747, Woodstock, CT 06281 or Hospice of Northeast CT, PO Box 632, Putnam, CT 06260. Share a memory at www.smithandwalkerfh.com