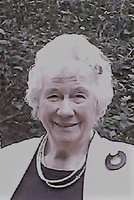 Ruth Leal
Ruth Isabell Olson Leal, 103, of Thompson, CT, passed away on March 9, 2021. She was born to parents Ethel Alzada (Sheldon) Russ and Bert William Russ, on February 1, 1918 in Thompson, CT.
Ruth graduated from Tourtellotte Memorial High School in 1936.
Ruth enjoyed knitting, painting, and watching birds from her front porch surrounded by feeders.
Ruth met and married Walfrid Olson her high school sweetheart. They were married on May 30th, 1937 in Thompson, CT. Together they raised 3 children: Kenneth Olson, Deborah Olson Angell, Dennis Olson.
After the passing of her first husband and through her faith and devotion to her church she met and married Julio Leal on February 23, 1986 in Thompson, CT. They lived happily together in Somerset, MA until his passing in November of 2002; when she moved back to her family home in Thompson, CT.
Ruth is survived by her son Kenneth Olson and daughter Deborah Angell. Also, her Grandchildren Sharon (Mike) O'Brien, Eric (Heidi) Olson, Dawn Angell Blackburn, Jonathan (Emily) Angell, Matthew (Amanda) Angell, Christene (Stephen) Wolanski. She had 17 Great grandchildren and 3 Great Great grandchildren.
Ruth was preceded in death by her son Dennis Olson and was the last living child of Ethel and Bert Russ. Her siblings, Gertrude (Howard) Adams, Florence (Henry) Page, Helen (Frank) Page, Elmer (Louise) Russ, Elinor (Roger) Thompson, Reginald (Barbara) Russ all predeceased her.
The family has entrusted Smith and Walker with the arrangements. A Private Graveside service was held on March 11, 2021 at Munyan Cemetery, Putnam CT. Share a memory at www.smithandwalkerfh.com