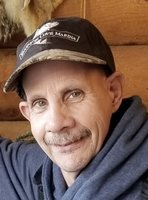 Mark Klein
Mark S. Klein, Sr., 62, of Woodstock Valley passed away unexpectedly at Winchester Medical Center in Winchester, VA. He was born January 1, 1959 in Trumbull, CT, son of the late Layton and Isabelle (Fisher) Klein. Mark was the beloved husband of Sandra (Bennett) Klein.
Mark was an outdoorsman and enjoyed fishing, hiking and taking pictures. Mark loved combing through flea markets for antiques and found happiness in getting the next best deal. Mark was devoted to his family and loved his tools and woodworking. He worked as a vendor for Frito Lay.
He leaves his wife Sandra Klein of Woodstock Valley, CT; his son Mark S. Klein, Jr., his significant other Christina Tondreau and their children Riley and Layton of Canterbury, CT; his step children Brian Leon, his wife Jessica and their children Noel and Bryson of Putnam, CT, Rebecca Fortin, her husband Mathew and their son Colton of Killingly, CT and Christina Leon, her fiancé James Klingensmith and their daughter Kayleigh of Voluntown, CT; his brother Matthew Klein of West Virginia; his sisters Georgia Mott and her husband Barry, Gail Bresnahan and Laura Meneo and her husband Michael, along with many nieces and nephews.
Calling hours will be Friday, March 19, 2021 from 5:00 to 7:00 PM at Smith and Walker Funeral Home, 148 Grove Street, Putnam, CT. Burial will be private. In lieu of flowers donation in his memory may be made to The National Wild Life Federation, PO Box 1583, Merrifield, VA 22116-1583. Share a memory at www.smithandwalkerfh.com