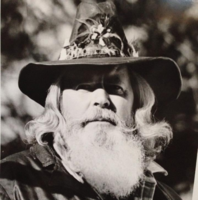 Robert A. Hanson
Robert A. "Yarbie" "Papa" Hanson
February 26, 1941 - March 13, 2021
Putnam, Ct - Robert A. Hanson, 80, of Putnam Ct, graduated to Paradise peacefully at home on Saturday March 13, 2021 surrounded by his family. He was born on February 26, 1941 in Norwich Ct. to the late Arthur Hanson and Violet (Helstrom) Lamoureux.
Bob married the love of his life, Jane Hanson and together they raised two daughters in their home in Putnam where they lived for the past 46 years. Bob created a home like no other. Anyone who came to his home felt welcome and comfortable. He was a man of large physical stature with a kind, gentle soul and wanted to help others. Bob had many occupations in his life but the one he was most proud of was teacher, mentor, best friend and "Dad" to the numerous people whose lives he made a difference. If you met Bob you knew instantly he was a unique individual. Bob recognized every human being had a different spirit and accepted them for who they were. In Bob's World, there was no prejudice, hatred, or greed but only mercy, brotherhood and spirituality. Bob studied The Urantia Book and his mission was to promote these virtues to everyone he encountered.
Bob loved to hunt and fish, but his greatest gift was his creativity. He could build anything out of wood from his own land and repurposed materials. Anyone who visited his home was in amazement of his creations. His garden and fish pond with waterfalls is breathtaking.
Bob will always be remembered for his storytelling. We could all sit for hours listening to his stories and his wisdom about life. His greatest joy was his two grandchildren who he loved to brag about. He was a farmer and raised every animal you could think of, and shared his love for animals with his family.
Bob was a born athlete and was competitive and played pool & horseshoes (which he beat everyone at.) He also loved target shooting and arm wrestling. He always enjoyed exercising.
Bob spent his years working for various paving contractors building many roads in the area. He owned a driveway sealing business and took great pride in his work. He was called transit eye for his ability to calculate and level projects. Never needing blueprints to build something. In his later years he worked for Quinnatisset Country Club as a groundskeeper which he really enjoyed.
Bob served one tour in the Army with the 43 Engineer Battalion, as a heavy equipment operator in Vietnam. Where he earned two bronze stars and a Marksman rating.
Besides his wife Jane of Putnam he leaves his daughters, Sherri Morrison and her husband Stephen of Dudley, MA, Rhonda Pfeiffer and her husband Dennis of Dudley, MA, siblings John Lamoureux of Plainfield, CT, Nina Hanson of Las Vegas, NV, half siblings, Sandra Rossi of Plainfield, CT, Lee Hanson of Plainfield, CT, Dickie Hanson of West Virginia, grandchildren Kalia Pfeiffer, Brett Pfeiffer and many nieces and nephews. He was predeceased by a sister Marion Tetreault and a brother Edward Lamoureux.
Services are private. In lieu of flowers donations can be made to NECCOG Animal Services or the Lyme Disease Foundation, Inc. Share a memory at smithandwalkerfh.com