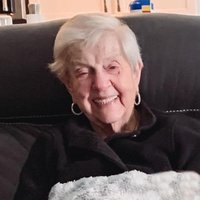 Eleanor Rainey
There are no words to express our deepest sorrow for the passing of our mother Eleanor (Chaffee) Rainey on April 7, 2021 in Myrtle Beach, South Carolina.
She was a lifelong resident of Putnam Connecticut, were she lived with her late husband Edward R. Rainey of 62 years. She was the loving mother of 9 children. Eleanor is survived by 6 adoring children, 19 loving grandchildren and 20 wonderful great-grandchildren.
A celebration of her extraordinary life will be held at the Putnam Baptist Church on Friday, April 23, 2021 at 11:00 a.m. followed by a burial at the Grove Street Cemetery.
In lieu of flowers, please send all of your thoughtful donations to Putnam Baptist Church 170 Church Street, Putnam CT 06260
Please join us to celebrate her amazing life.