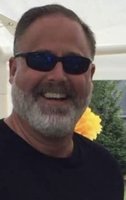 Craig Jones
CRAIG STEPHEN CLARK JONES
Craig Stephen Clark-Jones passed away at age 51 on Monday, 4/12/21 after a three-year stoic battle with cancer. Craig was born on September 11, 1969 in Fort Worth, TX to Joan Marie Clark Jones of Ledyard, CT. His loving father, Jack Jones, of Ledyard, CT predeceased him. His loving grandparents were J. Alfred Clark Jr. and Ruth Pauline Coats Clark of Ledyard, CT. His wife of 25 years, Tara Porazzi Jeffcoat-Jones, and his son, Cody James Jeffcoat, surrounded him with unending love and support up to his final moments here on earth.
Craig attended Ledyard High School from 1984-1988. He was a gifted athlete and participated in baseball, wrestling, basketball and his purest love, football. To say that Craig lived for football does not come close to the sheer passion he had for the sport. Craig was a member of the Ledyard High School football team when the team won its very first ever State Championship in 1986. In that championship game, Craig got the ball off a blocked punt and ran it in for the go-ahead touchdown. The 1986 State Champions of LHS continued to celebrate that amazing victory and their incredible bond of brotherhood every year, joining for a celebratory drink in memory of their hard work, commitment and much deserved win.
Craig attended Central Connecticut State University after high school and then moved on to an advanced trade school program and apprenticeship as a tool and die operator. Upon completion of that program Craig was immediately hired at Wiremold Inc. in West Hartford from April of 1990 to 2021. Over a proud career of 32 years Craig advanced from a tool & die operator "on the floor" in the tool room to a Senior Design Engineer. His Wiremold family (now LeGrand North America) held many great friends that he deeply loved and respected.
Craig is survived by his wonderful family; his mother, Joan Jones, Aunt Pauline and Uncle Richard Herrick, and his cousins, Richard Herrick, Tina Herrick Policarpo and Joey Policarpo, Virginia Herrick, Deb Herrick Hileman and Rich Hileman and many nieces and nephews. On the Porazzi side, he is survived by Margot Porazzi, Carlo Porazzi and Kerrie O'Connor, Aimee Porazzi-Reynolds and Peter Reynolds, Kristen Porazzi-Vanderveen and Brian Vanderveen, and many nieces and nephews. Craig was especially close to his brothers-in-law, Brian and Carlo.
Most importantly, Craig was a man of true integrity, intense loyalty and a love of life that was unmatched. His laugh would turn every head in the room and nothing in life made him happier than bourbon, cigars and time spent with his Band of Brothers. Craig's friendships are a testament to who he was and what he meant to all who loved him. He is survived and will be forever missed by his Band of Brothers; Brian, Lenny, Dan, Kyle, Peck, Smitty, Lumpy, Tim, Whitey, Eric, Pete, Terry, Fred, Iby, Joe, Eric, Rob, Greg, Luke and Billy. He will forever live on in our souls as a fierce, direct, at-times brash, protective, loyal, and passionate man to whom nothing mattered more than his family and his brothers. He was, indeed one of a kind. "See you on the other side, Brother." Share a memory with his family at Gagnonandcostellofh.com