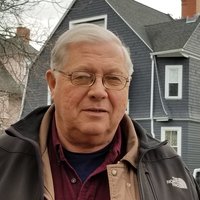 Christopher L. Chvirko
After a struggle with cancer, Christopher Chvirko, age 70 of Windham, CT passed away April 29, 2021 at Hartford Hospital in Hartford, CT. Born January 28, 1951 in Putnam, CT to William and Marjorie (Newth) Chvirko, Chris grew up in Eastford and Woodstock and spent his life in his favorite state, Connecticut. After earning his nursing degree from Three Rivers College, Chris was an RN with the CT Dept. of Develop. Services for over 30 years. A lifelong lover of both animals and plants, he used his time post-retirement to reconnect with his family's roots, helping at a local farm in Eastford.
Those who knew Chris were lifted up by his big-hearted kindness, his goofy sense of humor, and his unreserved love and affection. He approached the world with open-minded wonder. His curiosity provided him with a deep trove of knowledge and an ability to find both endless joy and fascination in every person who crossed his path.
He will be deeply missed by many, including his sister Karen (Chvirko) of Putnam, CT, cousin Elizabeth (Cartier) of Pomfret, CT, son Alec (Chvirko) and wife Roxanne of Dedham, MA, his daughter Meghan (Chvirko)and husband Paul (Stengel) as well as his granddaughter Willow (Chvirko-Stengel) of Norwalk, CT, and his long-time partner Rebecca (Noll) of Eastford, CT.
Friends may visit with the family at the Smith and Walker funeral home at 148 Grove St, Putnam, CT 06260 on Saturday, May 8th. A small service will be held at 11:00 am, with a calling hour available from 11:30 to 12:30. Graveside prayers will be offered at 1:00pm at Abington Cemetery in Pomfret, CT. In lieu of flowers, you may make memorial donations in the name of Christopher Chvirko to The American Cancer Society. Share a memory at www.smithandwalkerfh.com