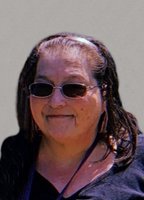 Debra J. Wallace
Debra J Wallace, 63, of Brooklyn CT, passed away peacefully in her home on May 3, 2021. Debra was predeceased by her parents Maurice and Yvette (Bonneville) Poirier, and her sister Brenda L. (Poirier) Ericson. She is survived by her loving husband Leon (Bunky) Wallace. Her mother and father-in-law John and Beverly Ballentine. Her sister Lori Poirier, sister-in-law Diane Bishop. Her children Tiffany (Doyle) and Keith Smith, Christopher and Kelly Paradis. Her granddaughters Hailey Barrows, Mackenzie Barrows, Aurora Paradis, Ellie May Mazzuchelli. Her nieces Amber Ericson, Jeanie Ericson, Holly Slater and Kaitlyn Bishop.
Born in 1958 to the late Maurice and Yvette Poirier she was raised in Putnam, CT. Attending St. Mary's School then graduating from Putnam High School. She went on in life working hard to take care of her family whom she cherished. Later in life she married the love of her life Leon Wallace in May of 2006. Together they lived happily spoiling all the kids.
Debra enjoyed many things, arts and crafts were her favorites. Any time you saw her she was always working on something new. She would proudly display her work at all the local craft fairs under the name Santas Nanas. She also enjoyed camping. Taking yearly summer vacations to Salisbury beach with her family. Her biggest passion was her family and friends. There was nothing greater than family to her. She will be missed dearly!
A celebration of her life will be hosted by the family at a later date.
Funeral arrangements have been entrusted to Gagnon and Costello Funeral Home, Danielson, Connecticut. Share a memory at www.gagnonandcostellofh.com