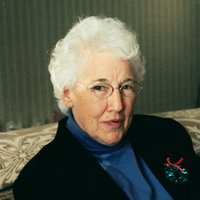 Sara Kivela
Sara Page Pike Kivela, age 98, a longtime resident of Pomfret, CT, passed away in the early morning hours of May 10, 2021 at the Westview Rehab in Dayville, CT where she was recently admitted for physical rehabilitation. Up until then, she had been most fortunate to live in her life-long home up until a week prior.
Sara was born August 25, 1922, the eldest daughter of Charles Arnold Page and Margaret White Page in Putnam, CT. She grew up in Putnam Heights and had many great stories. She spent a lot of time tagging along with her father, whom she adored and, whom she reported, adored her too. He took care of many local farms including one owned by a NYC Doctor! Sara gave her father a run for his money on any given day, for example, climbing atop a roof to 'help' whether he needed that help or not.
Patricia 'Toot' Peterson, Sara's sister, who resides at Westview Rehab, shared the best of sisterhoods through their lives. Sara had recently mentioned she missed her dearly and hasn't seen her for over a year due to the pandemic. It was the family's hope that they would be reunited again and that is why they opted for Westview for Sara's post op rehab.
Sara was one of God's gift to this world and to all who had a chance to spend time with her. Whenever you were lucky enough to be with her, whether alone or in a crowd, she'd have you sit down near her and she'd ask, 'so how is (fill in your name) today?' She would listen intently and make you feel like you were of great importance and that you really did matter to her.
She always had a story to tell. She'd reminisce about her childhood family, married life and losses, raising her children and noting their individual gifts. Sara knew Pomfret inside out and spoke of town's history often. They were filled with details about lives truly well lived. In addition, she was a great patriot of this United States of America.
As a young adult, Sara worked at the phone company working her way all the way up to supervisor. In the later 1940's, she met and married Goodwin Pike and they built her life-long home on Cherry Hill Road in Pomfret and had two children, Charles Earle Pike and Elisabeth Dean Pike.
She met her second husband, William 'Bill' Kivela, a confirmed bachelor, via his sister, Eleanor Arvonen, who lived next door to Sara. Eleanor negotiated him going next door to help the young widow by putting a swing set together for the children. Little did Bill know what his future held. Wedding bells rang for them on November 26, 1955 and they had one child, William Arvid (b.1957). Bill added on to the original house and added an outdoor sauna, bit by bit, and that's where they raised the family. Sara was quite active in the Abington CT Congregational Church and the Women's Guild. Bill and Sara were the organizers of the annual 'bean-hole ham and bean dinner fundraiser for many years. Sara describes their time together as a wonderful life. Bill Kivela passed away from cancer in 1992.
Sara was quiet of sorts, never the center of attention, never boisterous or rude. She was very, intelligent, well read and accomplished. She earned her associates degree while in her 70's at Quinnebaug Valley Community College, graduating with a 4.00 GPA. She was Pomfret's Registrar of Voters for several years and was a Justice of the Peace. She was the Recreation Director at Norcliffe Convalescent Home in Brooklyn, CT, working alongside her good, good friend Norma Robbins for many years. She retired from Hull Forest Products in Pomfret in the business office.
Sara enjoyed all the simple things of everyday life. She was the ultimate human being. She was attentive to people and never too busy to share herself with others. When you walked through the door of her home, there was a supernatural calmness that allowed you to immediately feel welcome, comfortable, relaxed and 'at home'. There was just enough dust to let you know there was no show, no pretense, no time wasted when there were people to be enjoyed and fresh baked something or other to be shared. She would always tell her children that she had lived a wonderful life.
She was predeceased by her parents, her husbands, Goodwin Pike and William Kivela, and by her good friend Ziggy Janaczek. Her siblings, Fred Page, Dorothy Ransom and Ethel Peterson also died before her as did one grandson Frank McKenna.
Sara leaves her children Charles Pike and his wife Christine, Elisabeth Pike McKenna, William Kivela and his wife Kimberly, her six grandchildren Jeffrey Pike (wife Michelle), Justin Pike (wife Jessica), Marshall McKenna (Jennie Cornell), Jason Kivela (wife Lenora) Jennifer Kivela Melki (husband Mohammed) and Katelyn Kivela (who lived across the street and was very loving and devoted to Sara). She is also survived by nine great grandchildren - Thomas Pike, Clayton Pike, Emily Pike, Colton Pike, Lilia Melki, Leonard Kivela, Cheyenne McKenna, Kenza Melki and brand-new baby Eliza Kivela.
Family will honor Sara's request for nothing more than a private graveside service with just her immediate family. She will be missed but her life's footprint will never fade.
With her lifelong thirst for knowledge, the family asks should anyone desire, they may make a donation in her name to the QVCC Foundation, 742 Upper Maple Street, Danielson, CT 06239. Share a memory at smithandwalkerfh.com