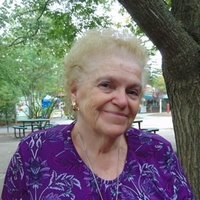 Vivian G. L'Etoile
Vivian G. (Chabot) L'Etoile, 80, of Central Village, Connecticut, passed away May 19, 2021 at her home. Vivian was born in Putnam, Connecticut on August 5, 1940, and graduated from Plainfield High School. She was married to Ronald E. L'Etoile on April 15, 1961, and they were married 53 wonderful years before Ronald passed in 2014.
Vivian held several different jobs throughout her lifetime. She last worked before retirement at the Mashantucket Pequot Museum where she made lasting friendships, including with her best friend Susan Curtis.
Vivian enjoyed traveling with with her family, and especially the several trips to Disney and Universal Studios in Florida and cruises to the Carribean and Alaska (her lifelong dream vacation). She also loved spending time with her two sisters, Prisiclla and Louise, and all of her extended family.
Vivian is survived by her sons Gary L'Etoile of Sterling and David L'Etoile of Voluntown; daughters, Judy L'Etoile of Putnam and Karen (Ron) DesChamps of Moosup, sister Louise (Richard) Joly; brother Henry (Deb) Chabot, grandchildren Andrew, Bryan, Hannah and Harley L'Etoile and Danielle and Shelby Deschamps; beloved dog Molly, and several neices and nephews. Vivian is predeceased by her parents, Ely and Yvonne (Poirier) Chabot; sister Priscilla Moscone; and brothers Arthur and Raymond Chabot.
The family will receive friends and relatives on Thursday, May 27, 2021 from 10:00am to 11:00am at Gagnon and Costello Funeral Home, 33 Reynolds Street, Danielson, CT, followed by a Funeral Service at 11:00am. Burial will immediately follow at Sacred Heart Cemetery on Wauregan Rd. in Brooklyn, CT. To share a memory with her family, visit www.gagnonandcostelloofh.com