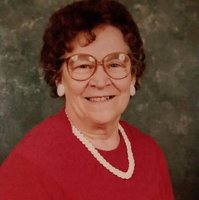 Virginia L. Kempf
It is with great sadness her family announces the passing of Virginia Loos Kempf after a long incapacitating battle with dementia. She passed June 3, 2021, at Pierce Memorial Baptist Home where she had lived for the past five-and one-half years.
Born on April 13, 1927, to Horace and Glenna (Walker) Loos, she married Joseph Kempf on September 24, 1949. He predeceased her in 1999, prior to their 50th anniversary. Survivors include her son Warren Kempf and daughter LyAnn Graff, her grandchildren Ryan (Jessica) Graff, Bethany (Dana) Lefebvre, her beloved great grandson Morgan Lefebvre, "honorary son-in-law" Kenneth Carpenter, and several nieces and nephews. She was predeceased by her dearly missed parents, brother Horace, and sister Janet Ladd. Survivors also include her estranged sister Glenna Bruno and brother David Loos, Sr.
Virginia retired from Danco, was a life member of the Putnam VFW Post 1523 and had been a member of the Plainfield Lions Club until her illness. In lieu of flowers and in honor of Virginia, please visit an elderly person or help someone that could use a hand, your companionship is immeasurable. Memorial donations may be made to the Alzheimer's Association Connecticut Chapter, 200 Executive Boulevard, Suite 4B, Southington, CT 06489-1042.
Funeral services will be held at Smith and Walker Funeral Home at 10 am Tuesday, June 8th with burial at the Westfield Cemetery immediately following. Share a memory at www.smithandwalkerfh.com