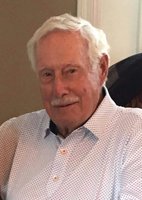 William J. Mountford
William J. Mountford "Bill", age 92, passed away peacefully on Saturday June 26, 2021 at his home in Avon Park, Florida surrounded by the love of his family. Bill was born on January 19, 1929 in Putnam, CT to the late William "Raymond" and Mary (Chapdelaine) Mountford.
Bill attended Putnam Trade School and entered the Armed Forces of the United States, serving in the Army Air Corps, on October 2, 1946 and was honorably discharged on September 27, 1949. During his service to our country as a Radio Operator, Sergeant William J. Mountford was the recipient of The World War II Victory Medal and The Army Occupation Medal Japan.
In 1950, Bill began his career in the construction industry with A.F. Peaslee, General Contractors, as foreman and moved up the ranks to Assistant Superintendent, Superintendent, Project Manager, Estimator and Vice President. In 1973, Bill worked for Charles Jewett Company as Project Manager, Estimator, Vice President, and President. In 1989, Bill was Co-Founder and President of W.J. Mountford, Co in South Windsor, CT. Bill continued estimating in his spare time long after retiring in 1994.
Bill was a dedicated family man. He was a devoted husband, loving father, grandfather, and great grandfather. Bill always modeled that hard work, strong values, kindness, tolerance, and patience were qualities that were important in our lives. Bill was an avid golfer and got to live his dream in retirement with Germaine, as they would leave their home in Woodstock, CT and travel to their retirement home on the second fairway at River Greens Golf Course in Avon Park, Florida for the winter. Bill also enjoyed a friendly game of poker, craps at the casino, golfing outings, college sports, and just puttering around his properties.
Bill was predeceased by his loving wife Germaine of 65 years. Bill is survived by his daughter, Cynthia and husband Mitchell Ogulewicz of SC; sons, Michael and wife Margaret Mountford of MI, Todd and wife Sherry Mountford of CT, and Scott and wife Pamela of CT; eight grandchildren: Kristen (Dan) Falcone, Joshua (Shannon) Ogulewicz, Katherine Mountford, Thornton Mountford, Danielle (Bryan) Keil, Kayla (Dean) Piterski, Jillian Mountford, and Alivia Mountford; six great grandchildren: Alexa Ross, Blake Rufini, Payton Falcone, Jack Ogulewicz, Milo Keil, and Eleanor Keil; 3 siblings, Beverly Mountford, Shirley Ayers, and Robert Mountford. Bill was predeceased by 1 sibling, Louise Goar.
A Mass of Christian Burial will be held on Monday July 12, 2021 at 10:30 AM at St. Mary Church of the Visitation, Putnam, CT, followed by burial at St. Mary's Cemetery. In lieu of flowers, the family request memorial contributions be made to: Cornerstone Hospice - 2140 East C.R. 540A – Lakeland, Florida 33813. Share a memory at www.smithandwalkerfh.com