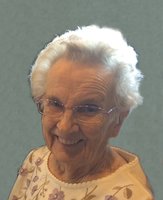 Blenda N. Salvas
Blenda N. Salvas, 90, of Putnam, CT and Florida, died July 25, 2021 in Plainfield, CT. She was born February 5, 1931, in Putnam, daughter of John and Naimi (Laru) Lehtinen. She attended Tourtellotte High School, graduating in the 'Class of 1949". As quoted in her yearbook, she was "one nice girl with a heart-warming smile, to tell all her virtues will take quite a while". Her own idea of paradise was shopping! She cared for many; her mother, her aunt, and her companion of many years in Florida, Ray Olejniczak.
She loved her home in Florida. She lived there until she was 88 years old. She loved to pick shells on the beach, playing cards with her friends 2 to 3 times per week. She loved canasta and pinochle and nickel being her favorite with her family and grandchildren. She attended most of her class reunions. She loved coming up for them. Her last one was at Elizabeth's Farm House for her 70th reunion on June 22, 2019.
She leaves behind her sons William and his wife Beth, Daniel and his wife Nancy, her daughter Blenda Labonne and her husband Jim, eight grandchildren and nine great grandchildren. She was predeceased by her son Stephen, March 23, 2011.
Calling Hours will be Friday, July 30, 2021 from 10:00 to 11:00 AM at Smith and Walker Funeral Home, 148 Grove Street, Putnam, CT. A Funeral Service will be at 11:00 AM at the Funeral Home, burial will follow in East Thompson Cemetery, Thompson, CT. In lieu of flowers please make donations in her memory to Hospice of Northeast Connecticut, PO Box 632, Putnam, CT 06260 or Tourtellotte Alumni, PO Box 437, North Grosvenordale, CT 06255. Share a memory at www.smithandwalkerfh.com