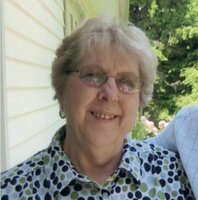 Bernadette Bella Boller
Bernadette Bella Boller, 80, of Plainfield, CT passed away Sunday, August 29, 2021 at W.W. Backus Hospital Norwich, CT. She was born on April 16th, 1941 in Pomfret, CT, daughter of the late Francis and Bella (Lacroix) Duquette. Bernadette was the beloved wife of Arthur M. Boller. She enjoyed sewing, embroidery, and crochet. She worked as a Technician at C & M corporation for many years before retirement.
In addition to her husband Arthur, she leaves her children Bryan Tworzydlo and his wife Amie of Woodstock, CT, Steven Tworzydlo of Groton, CT, Kenneth Tworzydlo and his wife Anne of Killingly, CT, Pamela Parisek of Plainfield, CT, as well as, eleven grandchildren and several great-grandchildren. She also leaves her brother Francis Duquette Jr. and his wife Julia of Thompson, CT, her sister Grace Gadue of Danielson, her sister Cecile wife of Joseph Stoddard of Pomfret, CT, as well as several nieces and nephews. She was predeceased by her son Timothy Bianchi.
A Mass of Christian Burial will be held Saturday, September 4, 2021 at 11:00 AM at St. Mary Our Lady of the Rosary Church, 34 North Main Street, Jewett City, CT. A Celebration of Life will take place after the Mass in the Church Hall. Burial will be at a later date. Share a memory at Gagnonandcostellofh.com