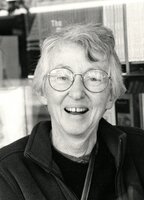 Margaret "Joy" Daentl
Margaret Joy Daentl, 90, of Pomfret, Ct passed away on August 25, 2021 in the serenity of her Pomfret home. Joy was born March 23, 1931, in DeKalb IL daughter of the late Emmerson and Bertha (Holland) Smith. She was married to Roy Duane Daentl for 47 years; her beloved Duane passed in 2001.
Joy attended Dekalb Township High School and went on to receive a MA in Library Science from the University of Wisconsin in 1954. During her time at UW, she met Duane who was an all-American crew coxswain and captain of the UW heavy weight varsity boat. They moved east to the Salisbury School in 1954 and to the Pomfret School in 1962 where Duane taught mathematics and coached sports including crew. Joy was the librarian at the Rectory School from 1963 until she retired in 2000.
Joy had a passion for reading and was always on the lookout for books that would inspire readers in her library to become passionate readers as well. Her library was always a center of activity with games, treats, and the latest Fidelco Guide Dog Foundation foster puppy on hand to brighten up the school day. Her association with Fidelco spanned over 50 years which saw the raising of 16 fosters and a house filled with at least two German Shepherds at any given time. Joy loved being outside to take long walks with her dogs and to spend time tending her vegetable and flower gardens; she earned the title of Master Gardener from UCONN in 2011. She sang in the Concert Choir of Northeastern Connecticut and after retiring took up Tai Chi classes in Southbridge. All who knew Joy will dearly miss her sunny personality and good-natured humor.
She leaves her son Wyatt of Pomfret, CT, her younger sister Lea of Aurora, IL, and her devoted Shepherd Glory. Joy's older sister Jean of Oakland, CA, passed in 2017 also at age 90.
A tribute reception will be held at her Pomfret home Saturday, September 18, 2021 at 2:00 PM; for details, contact Wyatt Daentl at (860) 928-6075. In lieu of flowers, donations may be made in her memory to the Fidelco Guide Dog Foundation, 103 Vision Way, Bloomfield, CT 06002.