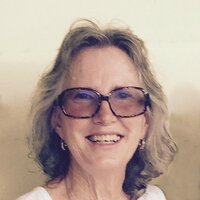 Anne Peterson
Anne Peterson, 76, of Woodstock passed away peacefully at home on August 27, 2021, her family by her side. She was predeceased by her husband of 54 years Donald P. Peterson. She was born on September 18, 1944 to the late Mary (Corwin) Morgan. Anne called many places home before graduating from Woodstock Academy in 1962. She had a kind nature and made friendships that lasted a lifetime.
Early on Anne met her soulmate and after marriage settled in Brooklyn. They went on to raise the family she always wanted. From den mother to number one fan, Anne was always there to support her children. She always knew what they needed, whether it was moral support or just a hug. When Anne's children got older she returned to work and was employed at Day Kimball Hospital and later at the Northeastern Connecticut Council of Governments (NECCOG), from where she retired.
After retirement, Anne and Donald moved to Woodstock. She enjoyed oil painting, playing cards, jigsaw puzzles and board games with her family, tending to her flower gardens, and visiting with family & friends. Many of her paintings were hung throughout their home. They also enjoyed taking drives throughout the countryside, that is, when they weren't at home spoiling their beloved black lab, Boo.
Anne is survived by her four children; Scott Peterson and his partner James Johnson of Pawtucket RI, Mark Peterson of Woodstock, Felicia Remchuk and her husband Matthew of Sandy Hook, and Curt Peterson and his wife Michelle of Woodstock, six grandchildren; Jonathan Peterson, Brynne, Owen, and Kaylee Remchuk, and Morgan and Payton Peterson, two great grandchildren; Aria Mae Lucas and Bryce Peterson.
Calling Hours will be Friday, September 10, 2021 from 7:00 to 9:00 PM at Smith and Walker Funeral Home, 148 Grove Street, Putnam, CT. Burial for Anne, her husband Donald with Military Honors, and her mother Mary Morgan, will be Saturday, September 11, 2021 at 11:00 AM in Elmvale Cemetery, Woodstock. Share a memory at www.smithandwalkerfh.com