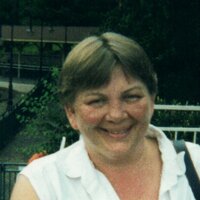 Gladys M. Blanchard
Gladys M. Blanchard, 64, of Dayville, CT, died September 4, 2021, at Hartford Hospital. Gladys was a long time employee at Foxwoods Casino, where she met her loving husband Lucien Blanchard of Dayville, CT.
Gladys was born February 24, 1957, at L&M Hospital in New London to Marilyn (Rogers) Woodhall and Stewart Woodhall, who predeceased her. Gladys was also predeceased by her brother John Woodhall and sister Marilyn Edwards and a great granddaughter.
Gladys leaves behind two daughters Milli Goss, Lynette Goss and a son Rocky Scullen, 15 grandchildren and two great grandchildren, stepchildren Crystal, Barry and Richard and many step grandchildren. Gladys leaves behind eight siblings, Edna Woodhall, Pauline Woodhall, Stewart Woodhall, Virginia Woodhall, Ann Woodhall, Candace Woodhall, Adam Woodhall and Richard Woodhall and a host of nieces and nephews and many friends.
A Memorial Service will be Saturday, September 11, 2021 at 2:00 PM at the Smith and Walker Funeral Home, 148 Grove Street, Putnam, CT. In lieu of flowers, donations may be made in her memory to the American Lung Association of Connecticut for COPD Research www.alact.org Share a memory at www.smithandwalkerfh.com