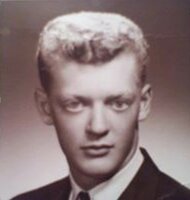 Jay Corttis Dooley
Jay Corttis Dooley 77 died peacefully at the Brentwood Nursing Home in Warwick, RI, on Saturday, August 7, 2021. Born in Des Moines, Iowa, he was the son of Virginia Perrin Corttis Dooley and Corbin Vincent Dooley.
Jay graduated from Morehead State University where he belonged to the Tau Kappa Epsilon Fraternity. He was married for a short time to Jerrel Dean Allen Tarr.
He is survived by cousins, John Newman, Olympia, WA; Herb Corttis, CT and the Magown and Morgan families.
Jay is also survived by his wonderful friends Dave Beaulier, RI; Robert Vincent, CT and Arthur Rabourn, Esq., OH.
His ashes were buried at the North Woodstock Cemetery, CT with his mother and grandparents Elmer and Edith Corttis. Share a memory at www.smithandwalkerfh.com