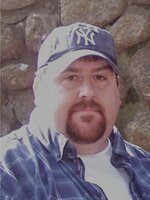 John Edward Martin Ladd
John Edward Martin Ladd (53) passed away unexpectedly On Thursday September 16, 2021. John was born July 2, 1968 in Endicott, NY. John is survived by his wife Kerry (Vinal), Children; Amanda, Samantha, and Pamala, his two son in laws Jeremy and Patrick, as well as his four grandchildren. He and his beloved wife Kerry married April 2, 1989 in Noank CT.
John will forever be remembered for his sense of humor, which was only dwarfed by the size of his heart. He was always the guy that wanted to lighten the mood through laughter and could always tell when someone needed a friend. John was an amazing artist as well as a history buff. He was an avid knife and watch collector and loved to watch his New York Yankees. John enjoyed listening to classic rock music and barbecuing with family and friends. He spent all his free time with his wife Kerry of 32 years.
John adored his grandchildren and looked forward to the birth of his newest grandchild Xavier. He cared for nothing more than he cared for his grandchildren; Jeremy, Ethan, Maddelynn, and Katrina.
A celebration of his life will follow in the coming weeks. Share a memory at Gagnonandcostellofh.com