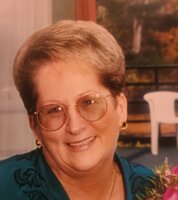 Constance Moore
Constance Moore, 81, of Danielson, CT, died Friday, September 24, 2021 at Regal Care in Harwich, MA. She was the beloved wife of the late Dennis L. Moore, they were married August 31, 1963 at St. James Church. She was born on July 29, 1940 in Putnam, CT, daughter of the late George Couture, Sr. and Irene (Thibeault) Couture.
She worked as a realtor and owned her own business Quiet Corner Realtors. Constance loved her trips to the casino to play the slots and was an avid bingo player. She loved her cats and also enjoyed cooking and baking.
She leaves her children Greg Moore and his fiancée Kristina Wilde of Marstons Mills, MA; Denise Moore and significant other Frank Roethel of Griswold, CT; her four grandchildren: Morgan Fleming, Christopher Fleming, Jaron Moore, Justyn Moore. Her sisters-in-laws Barbara Mortimer and Claire Couture; her brother-in-law James Mortimer and also several nieces and nephews. She was predeceased by a brother George Couture, Jr.
Calling Hours will be Tuesday, September 28, 2021 from 9:00 to 10:30 AM with a Mass of Christian Burial at 11:00 AM at St. James Church, 12 Franklin Street, Danielson, CT. Burial in Holy Cross Cemetery, Danielson, CT. In lieu of flowers donations may be made in her memory to the Alzheimer's Association Connecticut Chapter 200 Executive Boulevard, Suite 4B, Southington, CT 06489. Share a memory at Gagnonandcostellofh.com