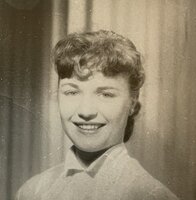 Arline M. Langlois
Arline M. Langlois, 84, of Putnam, CT passed away Thursday, September 30, 2021 at Westview Nursing Home in Dayville, CT. She was born December 16, 1936 in Webster, MA, daughter of the late Armand and Stella (Sniadach) Arpin. Arline was the beloved wife of the late Norman E. Langlois, they were married July 2, 1955.
Arline was a member of Most Holy Trinity Church and St. Mary Church and was a devoted Catholic. She was a graduate of St. Louis High School in Webster, MA, where she was a cheerleader for the basketball team. Arline was a wonderful wife. mother, grandmother and great grandmother. She enjoyed family gatherings especially around the holidays and spending time with family. Arline was a great baker and loved to shop in her early years.
She leaves her children Darren Langlois of Putnam, CT and Norma Jean Nilo and husband Terry of Woodstock, CT; her grandchildren Jeffrey Langlois, Jason Langlois and wife Leah, Brittney Serra and husband Freddy, Anna Pingitore and partner Dennis Deary, Antonio Pingitore and wife Miranda. Her great grandchildren Emma and Libby Fischkelta, Jase and Aria Pingitore, Gavin and Grace Langlois. Arline was predeceased by a son Brian E. Langlois, he died January 18, 2021, brothers Arthur Arpin, Armand Arpin, Jr. and Ronald Arpin.
The family would like to thank all the staff at Westview for all the loving care she received through the years.
Calling Hours will be Tuesday, October 5, 2021 from 9:30 to 10:30 AM at Smith and Walker Funeral Home. A Mass of Christian Burial will be at 11:00 AM at St. Mary Church of the Visitation, 218 Providence Street, Putnam, CT, burial in Elmvale Cemetery, Woodstock, CT. In lieu of flowers donations maybe to the Alzheimer's Association, 200 Executive Boulevard, Suite 4B, Southington, CT 06489. Share a memory at Smithandwalkerfh.com