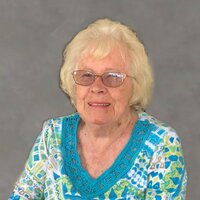 Theresa A. Theriaque
Theresa A. Theriaque left this earth on October 1, 2021. She was the daughter of the William and Alma (Laporte) Lamothe. Theresa was born on August 5, 1927 in West Thompson, CT. She was predeceased by her mother, father, brother Norman and grandson Charles Currier. Theresa worked for many years as an upholster for Jens Risom Design. She once fabricated a chair for Lyndon B. Johnson's office when he was President. She worked other positions in manufacturing. During her partial retirement, she held a position at Ames Department Store where she made many friends. Years later she received her GED after starting her family. Theresa was a Communicant of St. Mary Church of the Visitation in Putnam, CT.
Theresa was an avid gardener with two green thumbs. Her yard was always impeccably groomed and her in door plants flourished as well. She enjoyed sewing for many years and was always asked to assist with mending for others. Theresa was an accomplished cook and enjoyed entertaining. She was a member of the Brooklyn Senior Center for years and was always willing to help out there.
Theresa is survived by her daughter Linda White of South Carolina, Cathy Martel and her husband Scott of Danielson, CT and Norma Currier and her husband Charles of Arizona. Her grandchildren Cathy Erskine of Washington, Justin White, Jr. of Putnam, CT and Ashley O'Brien of Danielson, CT. Her great granddaughters Valerie and Julie Erskine of Washington and a great grandson Cody White of Putnam, CT. Theresa was also a great-great grandmother to Sophie White of Putnam, CT. Theresa's presence and quick wit will be missed. Her family will cherish her memory. May she rest in peace. Funeral Service are private. Share a memory at Smithandwalkerfh.com